Unless I'm trying to be aware of it, I don't see the WordPress admin anymore. When you work inside it every day, it becomes a means to an end, like a subway ride to work. You scan your ticket (log in) and you're on your way to whatever admin business is the order of the day. After awhile, you accept its appearance and no longer spend conscious thoughts critiquing it.
WordPress doesn't overhaul its admin design very often, since it requires a massive effort from contributors. The beauty of this pluggable system is that anyone with the skills can change the design to suit their own aesthetic. That is what WordPress developer Mark Ashton has done with Admin 2020, a plugin that completely reskins the admin to give it a different look.
Browsing the Admin 2020 demo, you might not even know you were using WordPress. The design is built on top of UIkit, a lightweight UI framework that has a softer, rounder look to it. Users can switch between light and dark mode. Admin 2020 features white labeling, allowing users to upload their own logos and brand the dashboard for themselves. The admin area can also be radically simplified based on user role. The plugin allows for admin menu items to be renamed or toggled for visibility.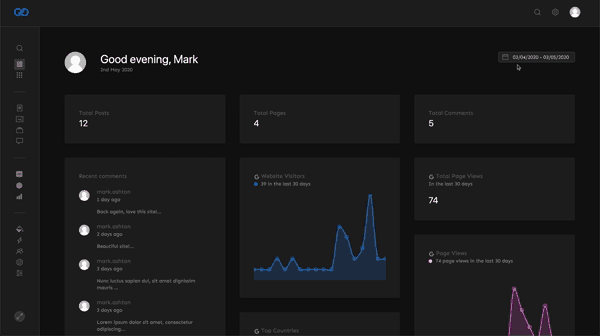 Admin 2020 has an Overview page that can sync with Google Analytics to show reports that can be filtered by date, including Users, Page Views, Sessions, and device breakdown. It also displays summaries of recent comments, popular pages, system info, new users, and other content-related data.
The plugin gives WordPress' media library a new look, along with folders and filters for an alternative way to organize images. Ashton claims it is up to 50% faster than the classic WordPress media library. The gallery editor also adds filters, free draw, icons/shapes, text and other mask filters for enhancing images.